어제 재미있는 메일이 한 통 도착했습니다.
Dear software development professional we thought you'd want to know about the QCon San Francisco conference Nov 7-9, a enterprise software development conference with 60 technical sessions (Nov 7-9) and 2 days of tutorials (Nov 5-6) with speakers such as:
Martin Fowler, Refactoring, Analysis Patterns

Kent Beck, XP, JUnit, Patterns

Philip Rosedale, Creator of Second Life

Rod Johnson, Creator of Spring

Dan Pritchett, eBay Architect

Eric Evans, Domain Driven Design

Jean-Luc Valliant, Linked-In CTO

Jutta Eckstein, Agile in the Large

Erik Meijer, Creator of LINQ
We have arranged a special discount for you with an additional $150 off when you use the discount code "devtownstation_qconsf2007" when you register for the conf.

마틴 파울러, 켄트 벡, 로드 존슨 정도가 제가 알고 있는 사람들인데, 강사 중의 일부라고 합니다. 사이트를 가보니 메인에 걸려 있군요.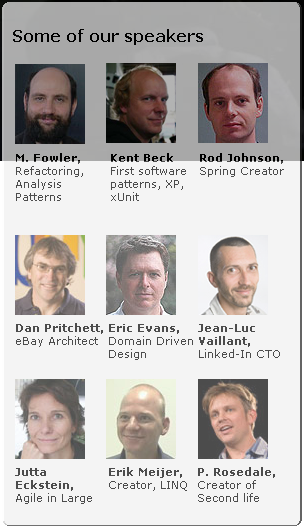 QCon speakers
다루게 될 주제는 다음과 같습니다.
QCon is designed with the technical depth and enterprise focus of interest to technical team leads, architects, and project managers. The tracks at the conference include:
무척 땡기는 컨퍼런스 입니다.
다녀 오시는 분 중계 부탁드립니다. ^^;
QCon에 대한 정보사이트:
http://qcon.infoq.com/sanfrancisco/conference/